Generation Global Newsletter - Issue 3, 2021
7 October 2021
Welcome to the third edition of the Generation Global Newsletter!

This edition will bring you up to speed with everything that's been unfolding over the past quarter - many exciting developments to the teacher portal, new partnerships, and new team members!

We are working very hard to expand our reach to enable the next generation of young people to develop global citizenship and dialogue skills. In the next three years, we have a goal to empower 100,000 young people to become active and open minded global citizens through the programme. To achieve this ambitious goal, the Tony Blair Institute for Global Change (TBI) and the Muslim World League (MWL) have entered a new and exciting partnership.

We added new features to the Teacher Portal, which we launched last quarter, to make it easy for educators to integrate our resources and tools within their curriculum and lesson plans.

Back by popular demand are our video conference dialogues linked with UN Sustainable Development Goals (SDGs). We are celebrating Education in September by organising special video conference dialogues for young people on SDG 4: Quality Education.

And before you move on to the next section, a quick update on our first-ever SDG Dialogue Series. More than 1,500 young people from 33 countries participated in intercultural dialogues with global peers on global issues such as poverty (SDG 1) and climate change (SDG 13).

We are delighted to have two new team members to help with our content development and marketing and communication so that we can continue to refine our products and reach many more young people around the world!

Happy reading!

Best wishes,
The Generation Global Team What's new? 🎉🎉
NEW UPDATES TO THE TEACHER PORTAL
Last quarter, we launched a brand new Teacher Portal for educators around the world to download our global citizenship teaching resources and to book into international virtual exchanges for their students. Within three months of the launch, there are over 1,000 teachers from 37 countries who have successfully registered on the Portal.

We have now added some more exciting features to support teachers to plan activities that will more accurately develop their students' skills. For instance, teachers can download class reports in excel to view progress of each student or class, they can view individual students' dashboard and skills tracker, and they can even assign topics for students to complete as a part of classwork.

Explore these new features by logging into your account or registering here.

EDUCATION DIALOGUE WEEK
In honour of International Literacy Day, we're celebrating Education in September by organising an Education Dialogue Week. During this week, we are hosting special video conferences for young people to learn and dialogue with global peers about UN Sustainable Development Goal 4 (SDG 4: Quality Education).

The Education week will be hosted from Tuesday 28th September to Friday 1st October, and upon completion of the week, young people will be rewarded with a certificate that signifies that they have gained knowledge about SDG 4 and practiced the skills of dialogue. More SDG Dialogue Series will be organised over the next 12 months, and we will continue to share details.

NEW TEAM MEMBERS
The Generation Global team is expanding - we've added two new team members to grow our education and quality and marketing and communication work. Selase Dzakamani has joined as an Education specialist to support content development for our student programmes and professional development courses. Aanchal Mittal has joined as Marketing and Communications Manager to improve our social media presence and engagement and shape our marketing and communication strategies. So watch out for many new and exciting developments to the programme in the coming months!

USAID FUNDED WAHDA PROGRAM EXTENSION
The USAID-funded Wahda program builds on learning from a decade of delivering Generation Global in the MENA region and aims to reduce bias and intolerance through facilitated youth dialogue sessions in Lebanon.

According to an independent evaluation of the program conducted by Aleph Strategies, the intervention has proved to be highly effective, with youth facilitators, trained as part of the program, reporting increased confidence, knowledge and ability in their dialogue skills and facilitation, while youth participants have demonstrated improved dialogue skills.

The final phase of the program kicked-off in July and aims to build upon these capacities by supporting participating youth to use their skills to identify and engage on issues that affect them and access solutions-focused dialogues and platforms that enable them to address challenges in their communities.

DEPARTMENT OF SCHOOL EDUCATION, TRIPURA, INDIA, PARTNERSHIP
We kicked off our partnership with the Department of School Education, Tripura in India to enhance communication skills of students through interaction with global peers and to provide international exposure to students across 20 government schools.

Under the partnership, over 100 teachers have been trained on foundations of dialogue, creating safe spaces in the classroom, and practical ways of integrating dialogue and global citizenship into lessons. Equipped with the pedagogical knowledge, these teachers will support thousands of students to learn and practice the skills of dialogue to become active global citizens.

Please reach out to us if you are interested to bring Generation Global to your classrooms.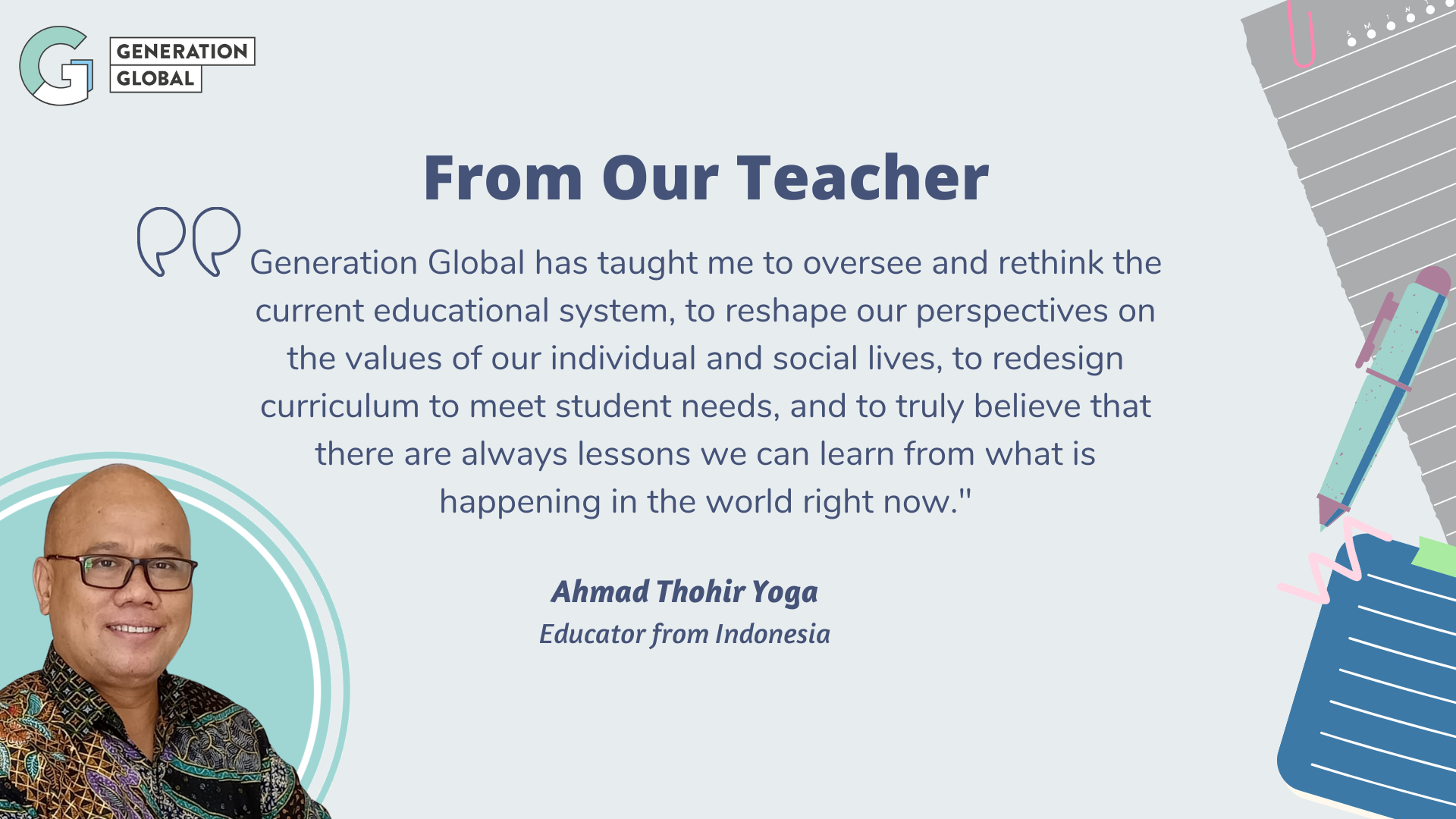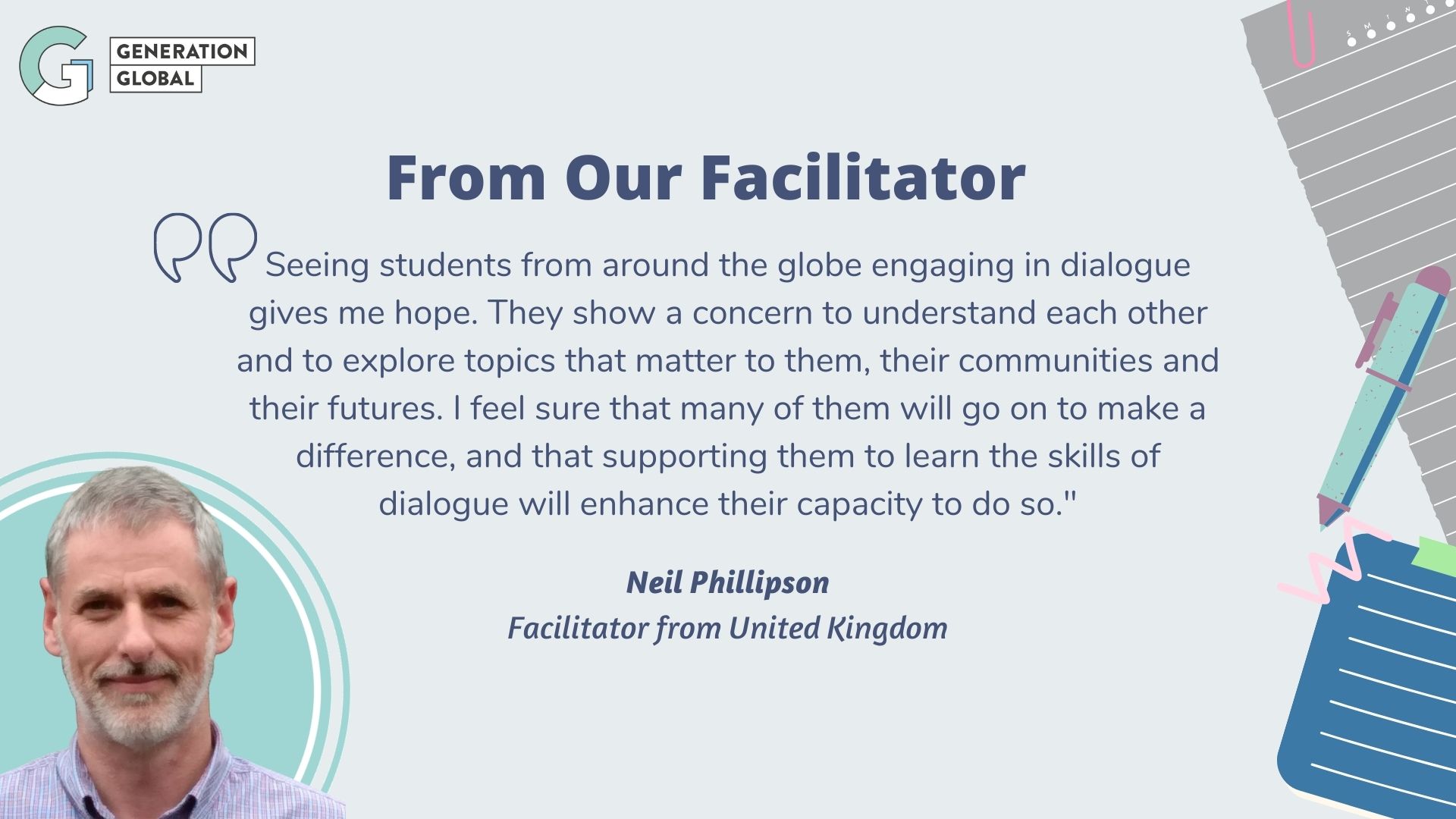 Partnership agreement signing ceremony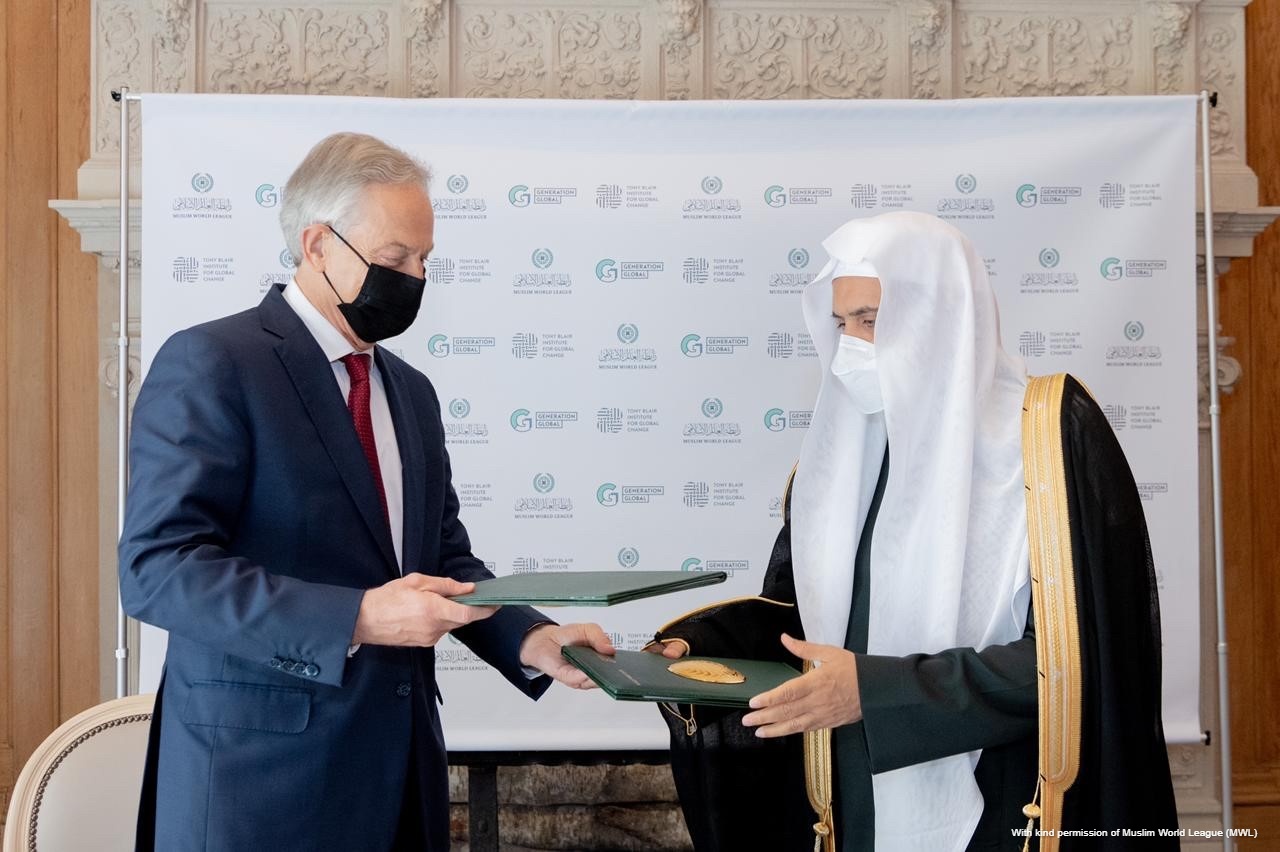 The Tony Blair Institute for Global Change and the Muslim World League form a partnership to support 100,000 young people develop global citizenship and dialogue skills through the Generation Global programme. To learn more, watch or read.
Virtual Info sessions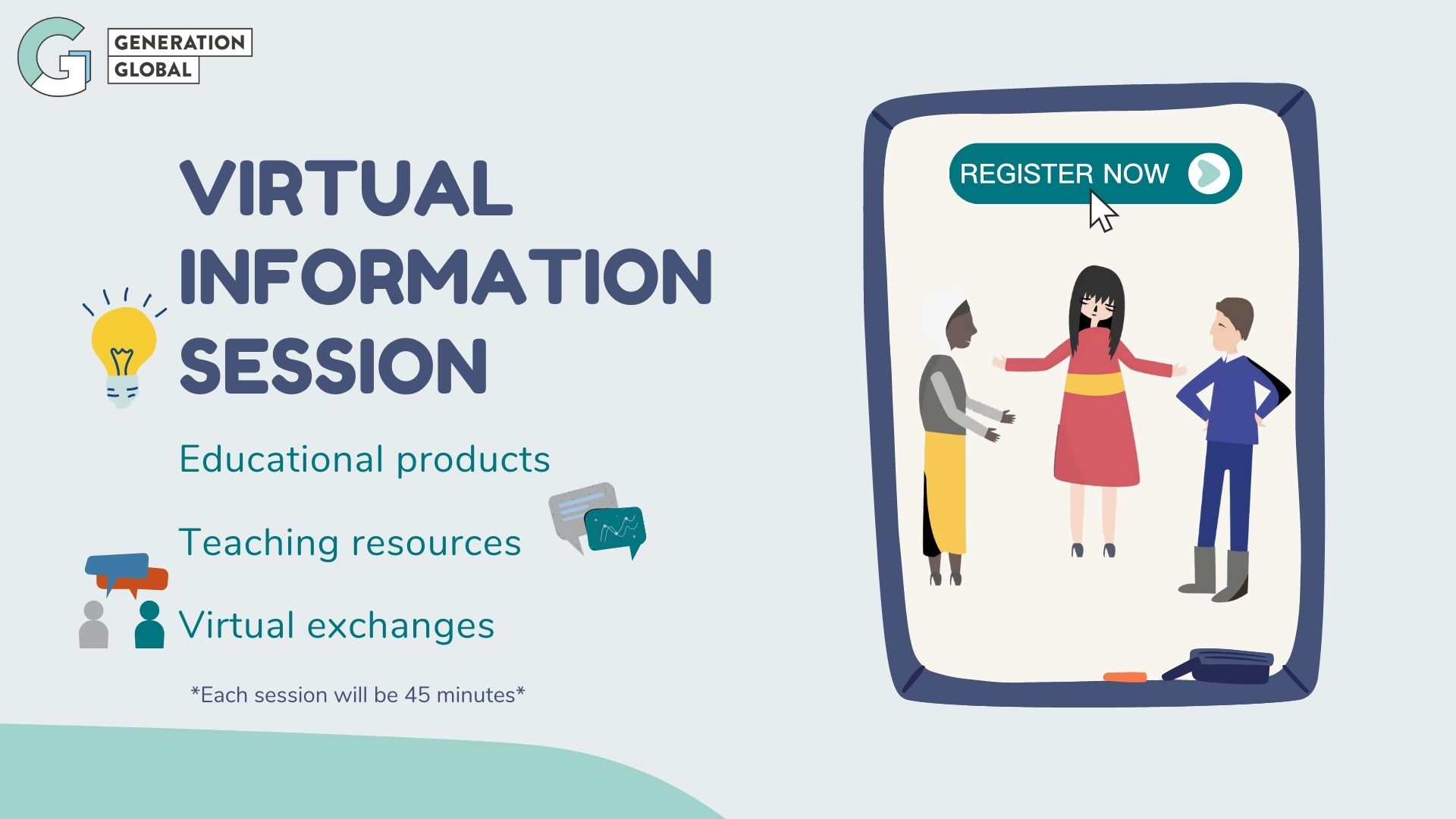 We're organising virtual information sessions for educators around the world to learn all about our educational products and tools on global citizenship - teaching resources, free virtual exchanges, and many more exciting tools! You can sign up to one of these sessions here.
International webinar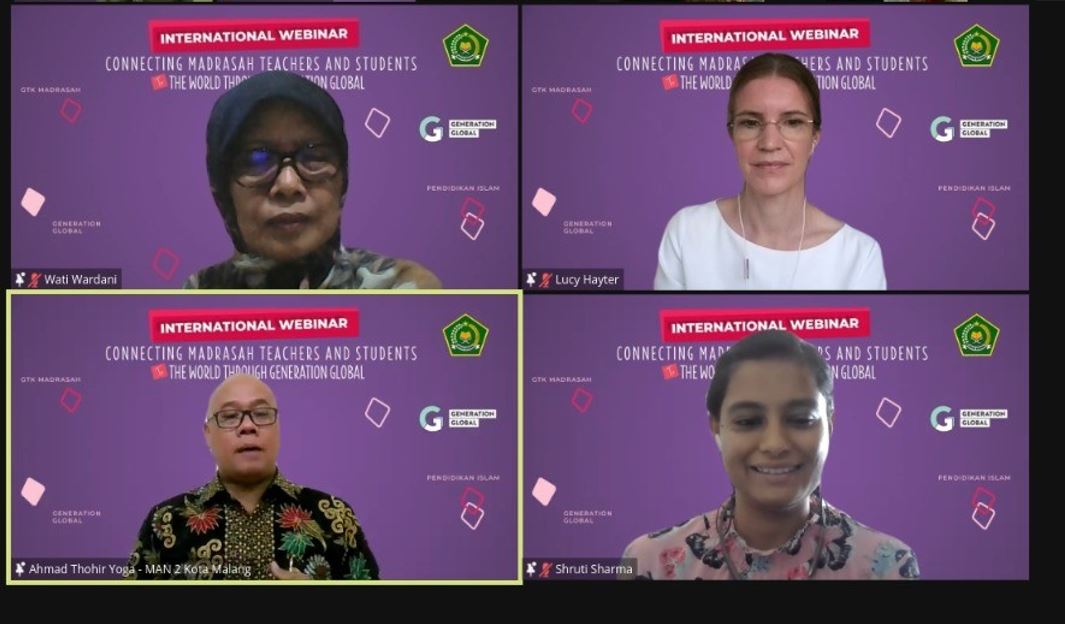 We collaborated with Ministry of Religious Affairs in Indonesia to organise an international webinar for Madrasah teachers on connecting their students to the world through the Generation Global programme. The webinar was attended by over 4,000 educators across Indonesia. To catch up on the session, watch the recording here.