Generation Global Newsletter - Issue 2, 2022
We have lots of exciting updates and announcements to support you on your Global Citizenship journey in this newsletter.
We are making everyday count by creating more teaching resources, recognising educators achievements through our Educator Awards and inviting even more young people from all over the world to join us on the Ultimate Dialogue Adventure. We have also updated the video conference schedule with new topics and ramped up our efforts to stay in touch with educators through WhatsApp groups. Our second newsletter this year is complete with everything we want to share!
Among other things happening within the programme, watch a message from Sir Tony Blair, our Executive Chairman, for young people and educators in Ukraine, commending them for their courage, determination, and contribution during these unimaginably difficult times. See his message here.
Enjoy reading the latest news and updates from the team!
Best wishes,
The Generation Global Team
Educators Awards announced
In May, we launched the Educator Awards to recognise educators who have demonstrated excellence in integrating dialogue and global citizenship into their teaching and have had a significant impact not only on their learners but also on the communities around them.
If you are one of them, we invite you to apply for the Educator Awards! Click here to learn more about how to apply and the eligibility requirements.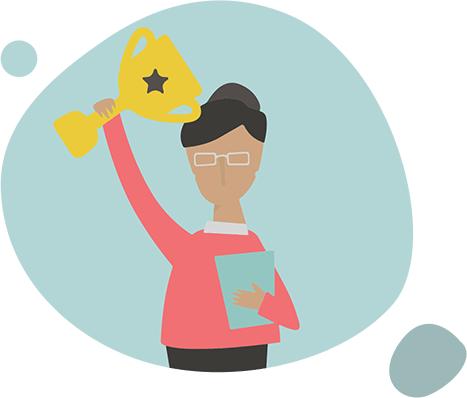 'Health and Well Being' topic launched
We have something new in store for you and your learners on the Ultimate Dialogue Adventure, a topic that could not be more relevant to the current time we are living in - Health and Well-Being! This topic will encourage young people to learn about health, explore what influences their health and how they can promote healthy living, as well as further engage in dialogue with their peers on this topic.
You can be the first to invite your learners to complete this brand-new topic! Also, if you need help knowing how to assign this topic to your learners, go here.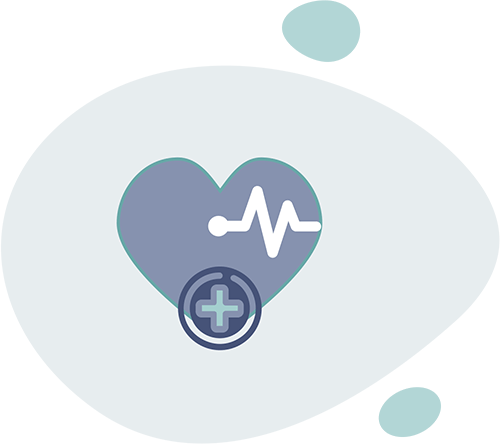 Introducing WhatsApp Groups for Generation Global Educators
We are launching regional WhatsApp groups for Generation Global educators to share relevant and timely information in real-time, such as updates on upcoming opportunities, video conference schedules, and special events. This channel will help us to communicate with you more quickly and ensure that your experience with the Generation Global platform is as rewarding as possible!
If you want to join the regional WhatsApp groups, please read this article to give us your permission, and our team will add you to the group. You can also read WhatsApp's legal notice and privacy policy and Generation Global's privacy policy to find out exactly how your personal data will be processed and stored upon joining.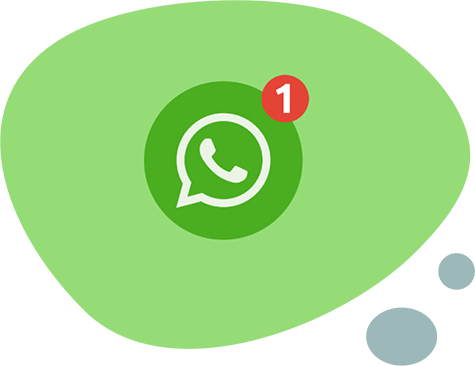 New Educator Resource page on the website
Our new Educator Resource page helps educators navigate our collection of teaching resources. This page contains a collection of downloadable guides and curriculum that provide dialogue skills-building activities, lesson plans, and information resources to teach about specific global issues and topics.
Browse the page and download materials to use with your learning communities to make learning more fun and engaging.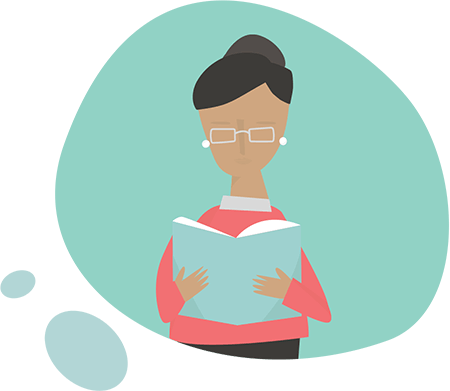 Taking Global Citizenship to Ghana and Burkina Faso with Children Believe
As part of Generation Global partnership with Children believe, we trained facilitators and volunteers to incorporate dialogue and Global Citizenship resources with young people so that they can provide a space for youth to learn and explore contemporary global issues and support them in developing 21st century skills, communication skills through basic dialogue skills.
It was wonderful to see participants in the Children Believe Ghana and Burkina Faso training extremely engaged, asking questions and actively participating in the various activities. They shared how useful it was to learn about the core skills of dialogue and their abilities to integrate this knowledge not only in their Child-Friendly Accountability Mechanism (CFAM) clubs but also in their teaching.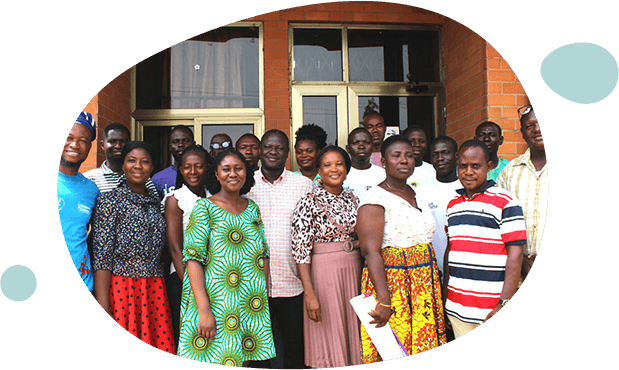 Welcome New Team Members
Generation Global has added three new team members to help develop quality resources for young people and educators, provide young people with a seamless virtual exchange experience, and scale the programme in South East Asia.
Please join us in welcoming Angelica Santana as an Education Specialist, Clara Korsgren as a Coordinator, and Allegra Kartika as the South East Asia Coordinator. Stay tuned for exciting updates and resources coming your way.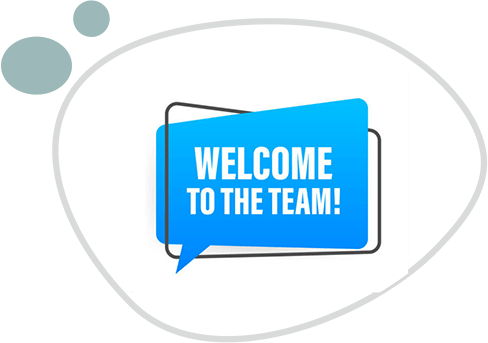 As a Generation Global teacher, I found that dialogue is an invaluable tool to build and foster connections between people. During the pandemic, it helped to reassure and build safety - emotional, physical, and most importantly social.

Angelo Cruz
Astumbo Middle School, Guam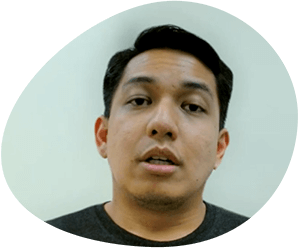 We are having video conferences on a monthly basis to promote a global dialogue among students belonging to different countries and cultures of the same age group. It is an amazing experience! It is very important for us to remember that whatever day-to-day decisions we make should not just be in the best interest of our local community or vicinity, but in the best interest of the world as a whole.

Toolika Dutta
City Montessori School, India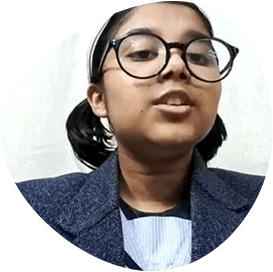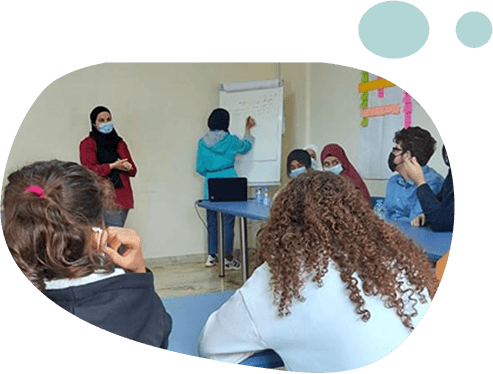 Read Fiona Dwinger's latest blog, in which she discusses how the Generation Global Wahda programme promoted tolerance and understanding among young men and women (aged 13 to 24) across ethnic and religious divides in Lebanon through dialogue.
---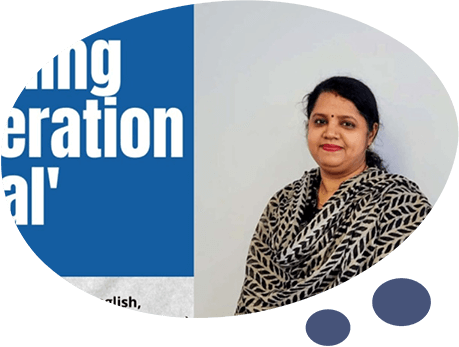 In her recent blog, Radhika Misra of Our Own English High School, Sharjah - Boys describes how she established a Generation Global Club in her school to encourage students to dialogue on global issues. Read this blog to learn how the club is assisting her students in becoming global citizens.
---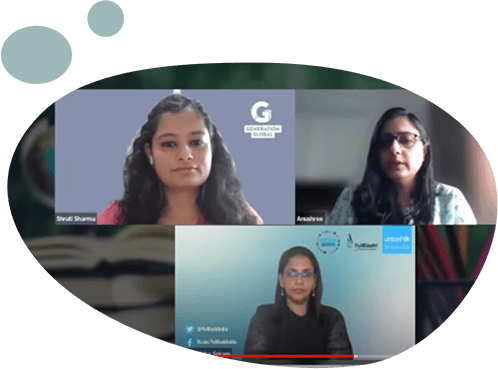 One of India's largest news media publishing companies, Indian Express, invited Generation Global to the Indian Education Summit 2022 to discuss the need for education programmes. Shruti Sharma, our Partnerships, Marketing, and Communications Lead, and Dhuwarakha Sriram, Chief Generation Unlimited, spoke about their experiences with global education programmes and providing a safe space for young people to express themselves and develop 21st century skills. You can watch the event here.
---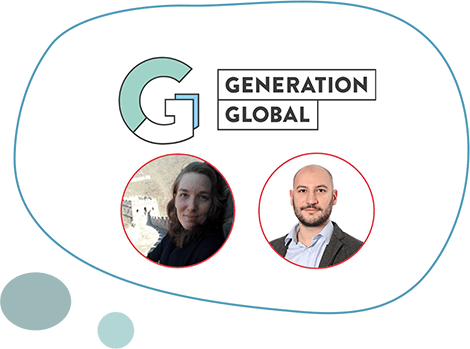 Lisa Petro, our Education and Quality Lead, and Lorenzo Raffio, our Digital and MEAL Lead, spoke at the Digital Education Futures Initiative (DEFI) Cambridge event about developing Global Citizens through gamified dialogic practices, as well as how Generation Global's student-led gamified platform, the Ultimate Dialogue Adventure, is advancing learning for young people. Watch the discussion here.
---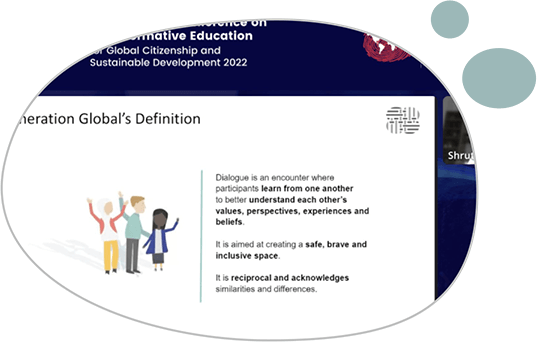 Preparing future global citizens
As part of the International Conference on Transformative Education for Global Citizenship and Sustainable Development (ICTE) 2022 organised by Global Citizenship Foundation, Generation Global was invited to talk about the 'Importance of cultivating Global Citizens Through Dialogue'. Shruti Sharma, our Partnerships, Marketing, and Communications Lead, spoke about how Generation Global is empowering young people around the world to become active, engaged, and open-minded global citizens.
---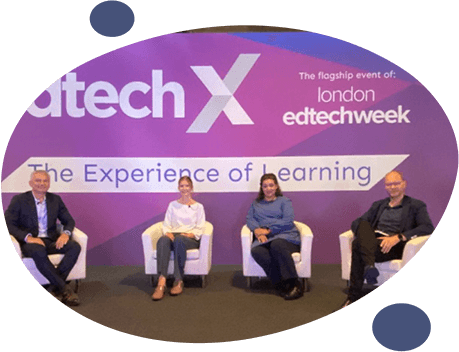 The importance of fun in learning to drive outcomes at EdTechX
Generation Global was invited to the EdTechX event, held as part of London EdTech Week. Our director, Lucy Hayter, discussed the importance of 'fun' in education with Shahneila Saeed of Ukie - The Association for UK Interactive Entertainment, Bo Stjerne Thomsen of Lego Foundation, and Tamas Haiman of SuperCharger Ventures.
'Essentials of Dialogue' in Indonesian: We have an exciting news for educators in Indonesia! Our free downloadable classroom resource, 'Essentials of Dialogue,' is now available in Indonesian, allowing you to explore, develop, and practice dialogue in your classroom. You can download the handbook and share it with your colleagues by clicking here.
Tech-Inclusive Education: A World-Class System for Every Child: To successfully deliver an education that is fit for the modern world, governments must put technology at the heart of reform. This report by Tony Blair Institute for Global Change calls for government and policy attention to the requirements for unlocking the benefits of world-class education for all children.
Successfully Educating Tomorrow's Global Citizens: The latest report by Global Cities, Inc., a Bloomberg Philanthropies programme in collaboration with Out of Eden Learn (OOEL), reveals the power of peer connections to - spark curiosity, enhance cultural understanding, drive interest in global issues, and recognise their ability to change the world.